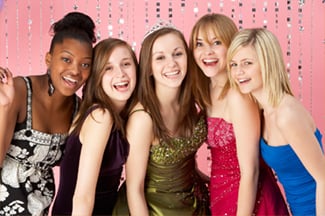 Prom is a unique event that high school students look forward to. However, it can also be an expensive event, with costs for dresses, tuxedos, tickets, transportation, and other expenses adding up quickly. If you're planning to attend prom in 2023, you might be wondering how to reduce costs without sacrificing the fun and excitement of the event. Here are some tips that can help you save money on prom expenses.
Shop for Deals: Start shopping early for dresses or tuxedos and look for deals at discount stores or online. Consider buying used or renting formalwear as an affordable alternative.
Borrow Accessories: Instead of buying new accessories, borrow from friends or family. This can include jewelry, shoes, and purses.
Do Your Hair and Makeup: Save money by doing your hair and makeup instead of going to a salon. There are plenty of online tutorials that can guide you through different styles.
Consider Alternatives to Limousines: Limousines can be expensive. Consider using Uber or Lyft instead to get to and from the prom. Check the price for limousines here!
Carpool: If you have a group of friends attending prom, consider carpooling to save on transportation costs.
DIY Corsages and Boutonnieres: Instead of ordering corsages and boutonnieres from a florist, make your own using fresh or silk flowers from a craft store.
Go with a Group: Many prom venues offer group rates for tickets, so consider attending with a group of friends to save money.
Eat Beforehand: Instead of paying for a full dinner at the prom, eat beforehand at home or a restaurant to save money.
Skip the Professional Photographer: Consider having friends or family members take photos instead of hiring a professional photographer.
Use Social Media for Photos: Instead of printing out photos, use social media platforms to share and store photos from the event.
DIY Decorations: Instead of buying expensive decorations, use craft or dollar store items.
Plan for Promposal: Plan your proposal to avoid last-minute expenses.
Use Coupons and Promo Codes: Look for coupons and promo codes online for dress or tuxedo rentals, accessories, and transportation.
Rent a Dress or Tuxedo: Renting a dress or tuxedo is often cheaper than buying one.
Sell or Swap Dresses and Tuxedos: Consider selling or swapping dresses or tuxedos with friends or classmates to save money.
Avoid Last-Minute Expenses: Avoid waiting until the last minute to buy tickets or order flowers, as prices may be higher.
Set a Budget: Set a budget for prom expenses and stick to it to avoid overspending.
Skip the After-Party: Instead of attending an expensive after-party, consider hanging out with friends at home or having a low-key gathering.
By following these tips, you can reduce costs for prom in 2023 and still have a memorable and enjoyable experience. Remember that prom is about celebrating with friends and creating memories, not spending much money.