Our company is the best party bus, charter bus, and limo rental company in Milford, CT. We have the largest selection of rentals. You can travel conveniently in Milford by renting a party bus or a coach bus.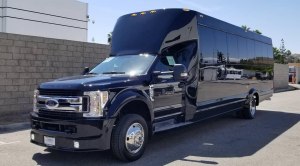 Bravo Limo is Connecticut's best party bus rental company. They rent party buses and charter buses. They also offer minibusses and shuttle buses for rent. You can also rent a school bus for your children on field trips. Bravo Limo can match you with the right vehicle for your small or large event. Bravo Limo stands out among other limousine companies in the city because they offer personalized service. They will ensure you have the best experience possible when renting from them. They can customize rates according to your travel plans, so there's no guesswork. It's just easy logistics!
Party Bus Milford offers the best party buses and limousines for hire throughout the year. If you're here for pleasure, you will have an unforgettable time in a party bus rental in Milford. A limo service in Milford is one of the best you will find, and it will make your formal events unforgettable. Book today to enjoy the finest luxury group travel in the area.
We have party buses for groups that can carry up to 40 people. This is a great way to travel with family and friends. A Limo service is the best option for smaller groups. Do you have more than 50 people?
Limo Service For Private Events
Bravo Limo is a well-known limo service provider for special events such as:
* Proms
* Weddings
* Funerals
* Anniversaries
* Birthdays
* Dinners
* Club Nights
* Special Events for Private Parties
No matter what occasion, we offer affordable and quick service. Our customer service team is available to help you plan your trip, from the pickup to arrival at your destination Milford or elsewhere in the Tri-State Area. Bravo Limo will make your night unforgettable by arriving on time and delivering a safe, reliable, and stylish way to arrive at the event.
Corporate Limo Transportation
Bravo Limo is the best choice for business travelers who need professional, reliable transportation to the airport, conventions, meetings, or other regional locations. Bravo Limo is the perfect service for clients who need to be picked up at their hotel or airport, and we will ensure they arrive at their destination safely and in style.
Great Service Available 24/7
Bravo Limo is available to make reservations 24 hours a day, seven days per week. Booking your next ride with Bravo Limo is quick and straightforward. Just let our customer service staff know what you need, and they will assist you in planning your next trip. We understand how important it can be to arrive on time for special events, and we want to ensure that you have the best possible experience. Our drivers are professionals with years of experience and will ensure you get there on time.
Bravo Limo: Why Choose Bravo?
Bravo Limo is a well-respected company focusing on quality transportation, customer service, and reliability. Our rates are among the lowest in the region. We guarantee you will enjoy your ride in one of our luxurious, clean vehicles. We will always be there to pick you up on time. For more information on booking a Milford limousine for your next business trip or special occasion, call us anytime.