We offer the best party bus and limousine service in Danbury, CT, with the most variety of rentals. Rent a coach or party bus for group transportation in Danbury.
Although Danbury is located in Connecticut, it is part of the New York Metropolitan Area. It is close to New York City, making it a popular choice for tourists and business professionals. Bravo Limo is the best choice for affordable limousine rentals in Danbury. Bravo Limo has a wide selection of limousine rentals that will allow you to see why New York City is the Big Apple easily. We have the largest selection of party bus and charter bus rentals in the Danbury region.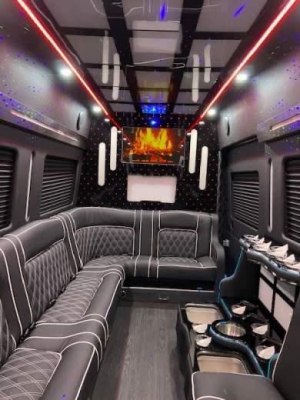 Bravo Limo has been an industry leader for more than a decade in party bus rental, helping thousands book their dream trips easily. Our excellent network of partners can help you plan your itinerary, match you with the right group, and even arrange transportation if necessary. We want to make it simple for you to travel wherever you like and never have to worry about transportation. We are available to assist you with any questions regarding pricing or booking.
Limousine Service for Special Occasions
You don't get to experience the luxury of a limousine every day. We make it easy to arrange transportation for your wedding, prom, or special date night. Bravo Limo understands how important this special occasion is. We guarantee that our clients will arrive on time, safely, and in style. We will help you create an unforgettable memory for your prom.
You can be sure that our job was done right. You will need a limousine to transport you and your wedding party. A getaway car is also necessary to get to your honeymoon destination. With luxury in mind, we will take you there. We understand that finding the proper transportation for your party is crucial, and we will help you find the best option for your party at an affordable price.
Airport Transportation for Business, Corporate, and Individuals
Are you planning a big business trip? Bravo Limo understands the importance of arriving in style. We offer affordable, fast, and stylish transportation to get you to your business location on time. Limousine services are available for airport pickups and corporate events. We have a fleet of corporate town cars and 16-passenger vans to accommodate large parties.
Call Bravo Limo Limousine  Today
We are available to answer your questions about any limousine service you might need. We can meet any limousine service need at affordable rates and speed.