Regarding your special day, every detail should be nothing short of perfect. Bravo Limo gives you the ultimate guide to choosing the limousine that doesn't just transport. Still, it elevates every moment of your wedding day, ensuring each second is steeped in luxury and elegance.
Step 1: Define Your Wedding Day Aesthetics
Before diving into the myriad options available, defining the aesthetic and theme of your wedding day is paramount. Your chosen limousine should seamlessly blend into and enhance the visual narrative of your celebration.
Classic Elegance: Opt for timeless vehicles with traditional charm, ensuring a sophisticated entrance.
Modern Luxury: Choose from contemporary models with sleek designs and modern amenities.
Vintage Romance: Select a retro limousine that adds a touch of nostalgic romance to your day.
Step 2: Consider the Practicalities
While aesthetics are vital, the practical aspects of choosing your wedding limousine are equally crucial. From size to duration, every practical element should be meticulously considered.
| Consideration | Details |
| --- | --- |
| Size of the Limousine | Ensure it accommodates your party comfortably |
| Duration of Hire | Account for the ceremony, reception, and any photo sessions |
| Route Planning | Consider the distance and any potential delays |
Step 3: Immerse in Unparalleled Luxury with Bravo Limo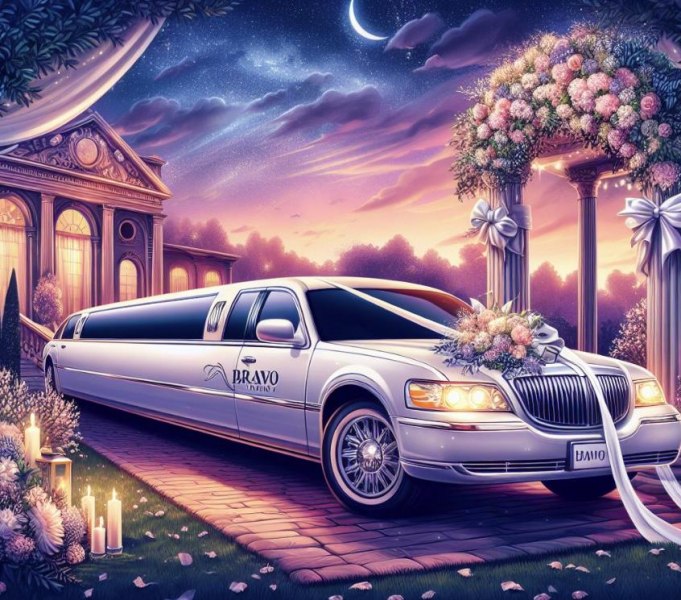 With Bravo Limo, luxury is not just promised; it's an assurance. Our fleet of limousines is meticulously maintained and designed to provide an unmatched luxurious experience, ensuring your journey is as splendid as every moment of your special day.
Exquisite Interiors: Revel in interiors that boast opulent designs and luxurious amenities.
Professional Chauffeurs: Be driven by the best, ensuring punctuality and safety.
Customizable Options: Tailor your experience with personalized options to match your wedding theme.
Step 4: Personalize Your Journey with Bravo Limo
At Bravo Limo, we believe in crafting experiences that are as unique and special as your wedding day. Our array of customizable options ensures that every detail, from the ribbon on the hood to the beverages inside, is tailored to your preferences and theme.
Ribbons and Decor: Choose colors and styles that complement your wedding theme.
Interior Ambiance: Select from a range of interior decorations and lighting options.
Beverage Options: Customize the bar with your preferred drinks and refreshments.
Step 5: Secure Your Booking with Confidence
Once you've immersed yourself in the options and tailored your choices to your needs, securing your booking confidently is the final step in ensuring your wedding day transportation is perfect.
Transparent Quoting: Receive a clear and transparent quote, ensuring no hidden surprises.
Flexible Booking Options: Choose a booking option that aligns with your planning process.
Reliable Confirmation: Secure your booking with a reliable confirmation, ensuring peace of mind.
Frequently Asked Questions
How early should I book my wedding limousine with Bravo Limo?
We recommend booking your limousine at least 3-6 months in advance to ensure availability and ample time for customization.
Can the limousine be decorated to match my wedding theme?
Absolutely! At Bravo Limo, we offer various customizable options, including ribbons, decor, and interior ambiance to align with your wedding theme.
What is included in the limousine bar?
Our limousine bars can be customized with beverages and refreshments to enhance your journey.
How are the chauffeurs at Bravo Limo selected and trained?
Our chauffeurs are meticulously selected and undergo rigorous training to ensure they provide a safe, smooth, and punctual journey on your special day.
Embark on a journey of love and luxury with Bravo Limo. Ensure every moment of your wedding day is elevated with a transportation experience that is tailored, luxurious, and uniquely yours.