Step into a world where your journey is as exciting and luxurious as your destination. With Bravo Limo, experience the epitome of luxury and high-end entertainment as we invite you inside our premium party buses, where every mile celebrates sheer luxury and unmatched comfort.
Embark on a Journey of Elegance and Entertainment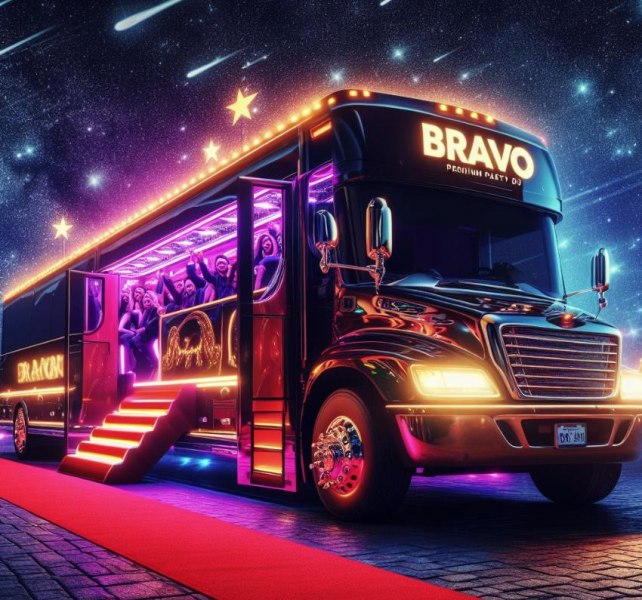 Imagine a space where every corner is designed to elevate your travel and party experience. Bravo Limo's premium party buses are not just a mode of transport; they are your private lounge, dance floor, and sophisticated party venue, all while on the move.
Plush Interiors: Sink into the abundance of meticulously designed interiors crafted for comfort and aesthetic appeal.
State-of-the-Art Amenities: Every detail is curated for a vibrant party atmosphere, from top-tier audio-visual systems to ambient lighting.
Spacious and Versatile: Our buses offer ample space, ensuring freedom to move, dance, and socialize comfortably.
Bravo Limo: Where Safety and Luxury Travel Hand in Hand
Your safety is our paramount concern. Bravo Limo ensures that while you're immersed in the lively atmosphere inside, our professional chauffeurs are dedicated to navigating the roads, ensuring your journey is smooth, safe, and punctual.
| Aspect | Details |
| --- | --- |
| Chauffeur Excellence | Professionally trained, dedicated to safety and punctuality |
| Vehicle Safety | Regularly inspected and maintained for optimal safety |
| Customer Support | 24/7 availability to ensure a seamless experience |
Customize Your Celebration on Wheels
At Bravo Limo, every celebration is unique and should be tailored to your desires. Our premium party buses offer a canvas to paint your perfect party scene, ensuring every detail, from the ambiance to the amenities, is curated to your liking.
Theme Decor: Transform the space with decor that resonates with your party theme.
Refreshment Options: Customize the onboard refreshments to accommodate your guests' preferences.
Entertainment Choices: Select entertainment options that elevate your party vibe.
Book Your Moving Party Venue with Ease
With Bravo Limo, booking your premium party bus is a breeze. Our online booking platform ensures that your next celebration on wheels is just a few clicks away. Navigate through options, customize your journey, and secure your moving party venue, all from the comfort of your home.
Explore Options: Browse through our fleet of premium party buses online.
Customize Your Booking: Select and personalize your amenities and journey.
Secure and Confirm: Book with confidence through our secure online platform.
Frequently Asked Questions
How do I book a Bravo Limo party bus online?
Visit our website, explore our fleet of premium party buses, customize your booking with desired amenities and journey details, and secure your booking through our easy and secure online platform.
Can I choose the amenities inside the party bus?
Bravo Limo allows you to customize the amenities, ensuring your party bus is tailored to your celebration's theme and guests' preferences.
Is there a minimum or maximum rental time for the party bus?
Yes, there is a minimum rental time, which can vary. Please contact our customer support for specific details and maximum rental time inquiries.
How is the safety of the passengers ensured?
Passenger safety is our top priority. Our chauffeurs are professionally trained, and our buses are regularly inspected and maintained to ensure a safe and smooth journey.
Step into a world where your journey is the celebration. Bravo Limo invites you to experience luxury like never before, ensuring your celebrations start when you step aboard. Book your premium party bus and let the journey be the destination.