Bravo Limo Connecticut Limousine Services is always happy to provide top-notch service for our clients. All your needs can be met under one roof: Executive cars and luxurious buses. Our goal is to offer great rides and keep track of and monitor our travel partners' itineraries. When used for professional purposes, travel can be a great asset. We provide a seamless, captivating, and unforgettable ride, from pickups to drop-offs.
Party Bus Rental Bridgeport (Connecticut)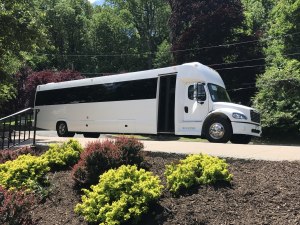 Why are we the best resource for party buses in the region? We have access to Bridgeport, CT's most significant number of vehicles, including many party buses. Party bus rentals can include laser lights, flat-screen TVs, and dance poles.
Party buses are available to travel to Bristol, Middletown, Meriden, New Britain, and Milford.
Renting a party bus in Bridgeport, Connecticut, is an excellent way to have fun while traveling. Bravo Limo is the best place to rent a Party Bus in Bridgeport, Connecticut. Our party bus hire in Bridgeport, Connecticut, will relieve the stress of traveling with a group. Bravo Limo offers a wide range of minibusses and party buses to suit your needs, whether you are looking for one for yourself or your friends. We also provide charter buses, shuttle buses, and limousines if you require assistance. Bravo Limo makes it simple to book everything from start to finish. Please fill out the online form to let us know which vehicle you want. We'll take care of everything else! Bravo Limo makes it easy to have fun and not worry about logistics. The only thing that will remain in your mind is how much everyone had fun on the trip. Limousines and party buses are available in Fairfield County, as well as the surrounding areas.